Kitchens and bathrooms are some of the most important rooms in the house and from a buying/selling perspective, they are big factors that can impact a buyers decision, (aside from location and general size specifications, of course).  Many homeowners put just as much emphasis on bathroom design and functionality as they do the kitchen. So if you're designing and building your new custom home, consider these tips and features for your custom bathrooms: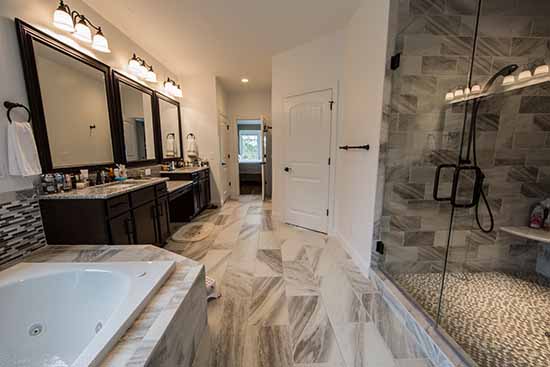 Double Vanity in the Master Bath: Talk to any couple and most will agree a double vanity is necessary for getting ready and out the door on those busy work mornings.  His and hers sinks and plenty of counter space can ease any morning routine!
Location of Power Outlets: Don't settle for standard placement of outlets. If there is anything we have learned over our 30+ years of building custom homes, it's that location and the number of power outlets matters. Power outlets installed underneath vanities or inside bathroom cabinets can be a huge benefit if you use electronics that require regular charging such as electric toothbrushes or shavers. Charging them out of sight can help keep a clean appearance and save your counter space.
Tilework, Cabinets and Countertops: Don't be afraid to be bold, but be careful to balance design trends with classic features. You don't want to choose something that will date your bathroom or that you will get tired of. Trendy light fixtures, plumbing fixtures and mirrors can easily be changed out but tilework, cabinets and countertops require a bathroom overhaul if you want to change them later. 
Hooks, Hangers, Towel Racks & Storage: Are there ever enough? The minimalist look is in, but let's be practical —  in a bathroom you need plenty of places to hang things like towels, robes, wet bathing suits, etc. Storage is also important. Where do you plan to put hair dryers, straighteners, and toiletries? Let's not forget about the extra rolls of toilet paper, first aid and cleaning supplies! Don't sacrifice practical features in the name of minimalist trends.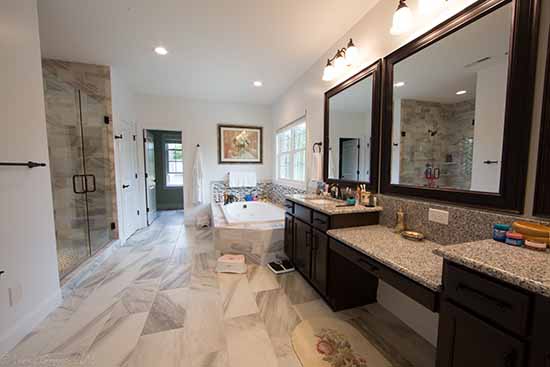 Tile Showers and Tubs: Many homeowners opt for a nice tile shower and a separate jet tub in their master; but if you don't want or need the tub, consider using the space for a larger walk in shower with dual shower-heads, a makeup vanity or shelving. If you're planning your retirement dream home, consider shower and accessibility features you may need as you get older in age. 
Custom Kids Bathrooms: If you have children, take into account what they will need in their bathroom to maximize functionality. Many parents with young kids consider tub-showers ideal for bath time and quick cleaning. Personalized towel racks keep kids organized and help them get in the habit of hanging their towel where they're supposed to. The same is true for dirty clothes and towels. Make room for laundry baskets (it will make your life easier)!  Lower countertops and single-handle faucets are another option that make it easier for young children to wash their hands and brush their teeth. Also, consider custom or dual vanities. They give kids their own "space" and can have a tremendous impact on morning and bedtime routines. 
With so many different options don't settle for a cookie-cutter bathroom. Think about your family's needs and design your bathrooms to fit accordingly. Talk with your home builder about your family's current routine. They can help recommend features that will make each bathroom in your new custom home perfect for all of your family members. 
AW Homes is a licensed general contractor with more than 30+ years of experience in designing and building custom homes. We are known throughout the Sandhills for our quality built homes and tasteful design features and finishes. Let us help you design and build your perfect custom home. 
Here are a few other blogs you may find helpful: 
Tips for Designing Your New Custom Kitchen
The Great Outdoors: Making Use of your Outdoor Square Footage
Breaking Down the Custom Home Design & Construction Process
Placing the Most Important Rooms in Your Home
Kathleen White
Financial Manager & Designer
AW Homes