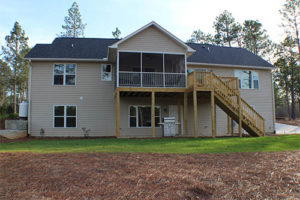 The backyard has long been under utilized square footage (and in many cases an undervalued part of the home). It wasn't until recent years that we started seeing more homeowners recognize the hidden treasure that lies beyond their back door. Today we receive more requests from our clients for outdoor features that enhance outdoor living spaces and square footage than ever before. So how do you make the most of what your backyard has to offer and uncover that "hidden treasure"? The answer really depends on your lifestyle and is unique to each family and home.
Here are a few outdoor features that are sure to increase your home's value and help you take advantage of that refreshing air:
Screened in Porch:  Whether designing your custom dream house or doing some home remodeling, you can never go wrong adding on a screened in porch or screening in an open deck. Screened in porches allow you to enjoy everything the outdoors has to offer and then some! They provide protection from annoying insects and mosquitos while still allowing you to enjoy the fresh air. Installation of an outdoor ceiling fan can even make those warmer days feel refreshing.
Open Decks & Patios: The opportunities of an open deck or patio are endless! A place for grilling and outdoor dining or an outdoor getaway for relaxing and enjoying nature- a deck or patio not only allows you to enjoy all that fall has to offer, it also increases your homes value. For families with young children concrete patios also allow for fun with ride toys, sidewalk chalk and other outdoor toys away from the hustle and bustle of moving vehicles.
Covered Decks & Patios:

Like open decks and patios, covered outdoor areas have a world of possibilities as well, with the added benefit of still being able to enjoy them in not so great weather. Covered decks and patios are especially nice as they keep outdoor areas shady and cool on warm days and allow you to soak in the peaceful rhythm of the rain while staying dry and still enjoying the fresh air.

Private Decks & Balconies: Who doesn't love having their own private balcony? A popular feature off the master suite, private decks and balconies make for a nice place to enjoy that first cup of coffee or a nightcap just before bed. Even if it is just taking a few minutes for yourself or to stop and enjoy nature, a private deck or balcony makes it easier to step out and get a breath of fresh air.
Outdoor Fireplaces & Fire Patios: Nothing says outdoor fun like a good campfire! Today we are seeing more and more families adding outdoor fireplaces or fire patios to their backyard scene. Excellent for entertaining and relaxing, outdoor fire patios provide fun for the whole family and add valuable outdoor square footage to your home.
Easy Breeze Porches & Sunrooms: While they are technically not "outdoors" easy breeze porches and sunrooms are designed to help bring the outdoors indoors. They are usually equipped with lots of large windows that can easily be opened to enjoy the fresh air and natural light.  The joy of a sunroom or easy breeze porch is the year round enjoyment it provides.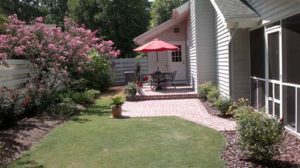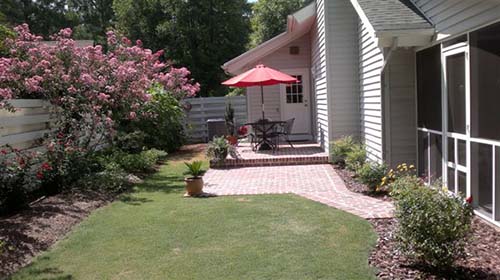 In addition to the above there are lots of other enhancements you can make to your outdoor square footage to make it more enjoyable such as landscaping and hardscaping updates or installing a privacy fence. Spring is the perfect time of year to plant certain kinds of grasses, plants, flowers and vegetables. Take advantage of the nice weather while also giving your yard a "landscaping face-lift" or installing those hardscape features you have been dreaming about. Privacy fences are also wonderful backyard additions that enhance your outdoor spaces and help increase your home's value.

Making use of your home's outdoor square footage can extend your living and entertaining spaces significantly. It can also help increase the value of your home for a relatively low cost. If you're considering building a new home, planning a remodel or contemplating an addition, think beyond the exterior walls and consider what outdoor features your family may enjoy especially as spring weather approaches!
Kathleen White
Financial Manager & Designer
AW Homes