Enhance Your Home with Outdoor Living Spaces
Carefully planned and well-built decks, patios & sunrooms add value to your home and enhance your lifestyle. Additionally, they extend your "living space" and become a valued feature for any home. Decks and patios are often the central focus point for family gatherings, outdoor cookouts and outdoor entertainment so designing and building is often a very personal process.
Decks & Screened-In Porches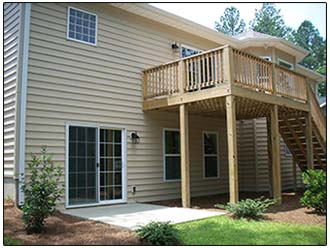 Decks and screened-in porches are two of the most popular outdoor additions to a home. They can be a living area in themselves for entertaining friends or celebrating with family. There is virtually an endless selection of wood types and finishes, and the creativity on a deck or screened-in porch is only limited by your imagination.
Your deck or screened-in porch can include multiple levels, specialized lighting, custom grill area or even integration of outdoor entertainment systems. It can be stand-alone or tied into a patio area. Decks can include gazebos, trellises and can be as simple or as detailed as you wish. We can design your deck so it becomes and integrated part of your home with any type of wood or low-maintenance alternatives. Ultimately, we want to create an outdoor living experience that is best for your family and ensure that we include as many features as possible for your budget.
Patios
A patio can be a fantastic extension of your home and your new favorite place for relaxing, cooking and entertaining. There are many patio products available, including concrete, stained and stamped or plain. Patios are low maintenance and a beautiful addition.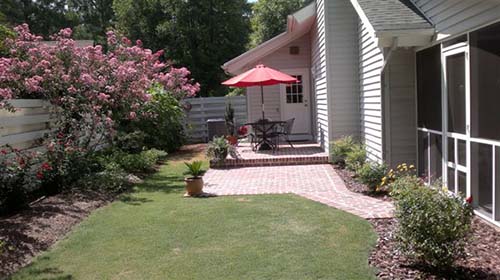 Concrete patios, sometimes referred to as cement patios, provide the perfect sanctuary for outdoor living spaces because they are usually connected to the house and blend the interior with the exterior living areas. For example, homeowners can match the stone facade of their house by installing decorative concrete to create a stone patio without the expense of installing traditional individual stones. With stamped concrete homeowners can get the look of flagstone, brick and many other patterns when stamp patterns are pressed into freshly poured concrete. Additionally, there are many add-on options to enhance your patio such as built-in sitting walls, water features, outdoor fireplaces or pits, and even full outdoor kitchens complete with a stone pizza oven.
How do you decide between a deck or patio, or both? If you are at ground level, go with a patio and if your home is above ground level, consider a deck or even a deck/patio combination.
Sunrooms
There are few home improvements or additions that provide the year-round enjoyment that a sunroom does. Sunrooms can be designed and constructed as an addition to your home or often a particular room is renovated to become a sunroom. Sunrooms open up your home to maximize natural lighting with large windows, skylights and usually full-view doors. No matter what time of year, a sunroom takes advantage of natural sunlight so even in the wintertime you can enjoy a bit of the outdoors….indoors.
AW Homes can help you design a sunroom that is the perfect complement to your home and incorporate interior finishes just the way you want them from beautiful crown moldings to include custom entertainment units. We use the most energy efficient materials and windows or glass with high quality installation that ensures security and year round enjoyment. We want your sunroom to be one of the most enjoyable areas in your home where the whole family can gather and relax. Whatever you envision for your sunroom let AW Homes bring it to life.