Setting the Standards High
AW Homes has high sub-contractor standards. We recognize the importance of teamwork, relying on a trusted group of sub-contractors, suppliers and vendors who are all integral members of our team. Every sub-contractor or vendor relationship is carefully evaluated for quality, performance and reliability. We monitor performance regularly and the level of craftsmanship and quality must meet or exceed the standards set forth by AW Homes. To maintain AW Homes' standards of excellence we only use sub-contractors that warranty their work. We have long-term relationships with all of those who are part of the AW Homes family and that transcends into confidence for our customers.
Sub-Contractor Standards:
Reliability

All sub-contractors are measured on how they respond to our requests and most importantly our client needs. Reliability means delivering as promised.

Timeliness

It is not enough to communicate time of completion but to meet communicated timelines. On-time completion is a major aspect of qualifying as a sub-contractor to work with AW Homes.

Consistency

We don't like surprises and neither do our homeowners. Consistency in the quality of work is measured with each job.

Quality Workmanship

Attention to detail, quality materials and careful implementation is essential and each sub-contractor is constantly reviewed for quality workmanship at every job site.

Experience

A minimum of 5 years experience is required in respective field of expertise.

References

Every AW Homes sub-contractor must have at least three reputable contractors they have worked for in the past that we can use to verify their character, reliability and work quality.

Licensing

All AW Homes sub-contractors must have all up-to-date licensing as required by the state of North Carolina.

Crew Size

Size is an important element of our sub-contractors. We want to make sure that each sub-contractor can scale to appropriate size so each job is completed properly, safely and on time.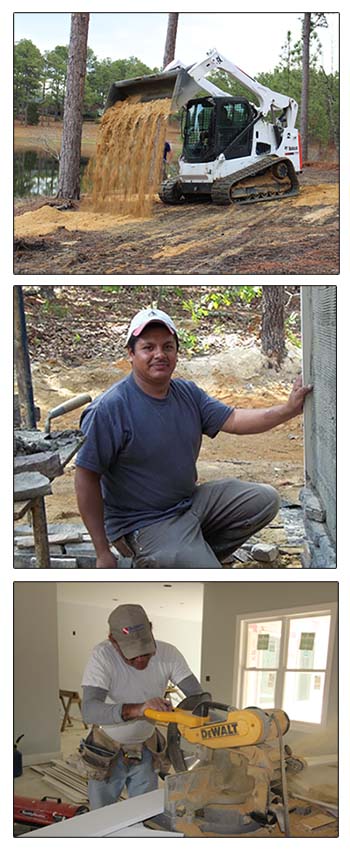 "Clean-As-You-Go" Policy
We do not like messy job sites. We view the job site as a direct reflection of our attention to detail and the level of care we put into every AW Homes project. Every sub-contractor must follow a "Clean-As-You-Go" policy so the job site always represents the most optimal working conditions for all AW Homes personnel and sub-contractors.
Come Work With Us!
Want to work with an exceptional team of like-minded, hard-working individuals?
Enjoy constructing beautiful, quality homes that provide a family with years of enjoyment?
AW Homes may be the right fit for you.
Contact Us