Quality Interiors & Appliances
We recognize the need to make the interior of your home not only look good but to feel good, and to maximize comfort. Since you spend most of your time inside your home, it has to reflect a character that works for your family with all the modern conveniences to make living worry-free. With more than 30 years of experience, we are experts at helping clients select interiors & appliances that match their style and budget.
Interior Finishes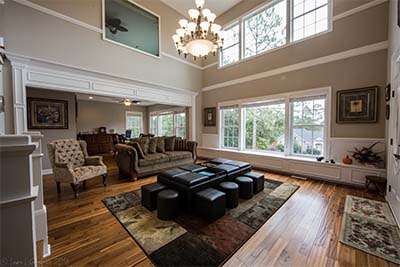 Interior finishes often include specific customer preferences, such as custom carpentry, special lighting, custom countertops, bathroom fixtures or other custom work in the home. It also includes ceiling height and finish, trim (molding, casing, baseboard, wainscot, etc.), flooring, paint, cabinets, fireplace surrounding, plumbing fixtures, light fixtures, stairway finishes and more.
There are many considerations and we walk our homeowners through each aspect of interior finishing so there are no missteps in the construction process.
We recognize that not every room may be the same and we try to focus our attention on those living spaces that will be most used – the living room, and the kitchen for example. Much of the interior finishes are determined in the planning stage. All interior finishes are chosen by the homeowner with guidance from the experts at AW Homes so we can balance interior finish and quality with price.
Appliances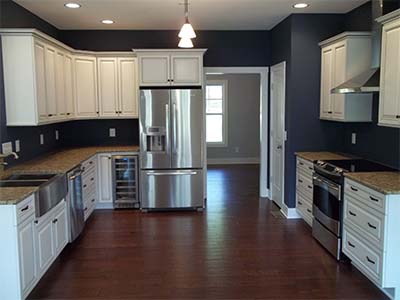 During the preliminary design meetings, appliances command an important aspect of the planning process. There are many brands and features that can impact pricing, and determining what is best for your home and budget is essential. To help you through the planning and decision process we create an appliance allowance that provides sufficient room to get you all you want within the contract price. Our goal is to relieve the pressure of worrying about what appliances will fit your budget and to allow as much flexibility as possible within communicated budget parameters.
Ultimately, the homeowner chooses the appliances that are most desired, but we want to make sure we get you the most for your investment. We have several suppliers that we recommend for appliance selection and competitive pricing. All appliances are delivered and professionally installed.
View Our Photo Gallery
Check out our photo gallery to see more interiors and exteriors of homes designed and built by AW Homes.
Ready to Design Your Custom New Home?
Give us a call and schedule your free consultation. Our interior design experts can help you pick and choose the right interior finishes to match your taste and budget.
Contact Us