From the Inside Out, Selecting Quality Exteriors & Landscaping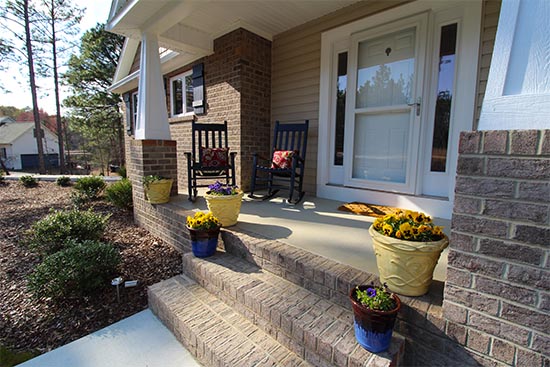 The exterior is the face of your home and, in many ways, is every bit as important as the living spaces inside. We take great care in planning exterior finishes and landscaping. As a part of the planning process we look at exterior finish types, roofing, color, and even outdoor living spaces. Once construction is completed we install foundation plants and other landscape materials. Professional landscaping not only complements your new home by enhancing curb appeal it also helps protect your home's foundation against erosion.
Exterior Finishes
The exterior finishes on your home include siding, trim, ridge venting, shingles, porches, steps, walks, drives, patios or decks, and exterior lighting. All decisions about exteriors are made during the pre-construction phase of the home design. At that time we discuss material choices, outdoor fixtures and color of exterior finishes. This may include specifics for window trims, shutters and even stonework that may be desired. We also cover walkways, driveways and any retaining walls or other exterior needs.
We offer all types of siding and exterior finishes in any dimension — dormers, screened porches, hip roofs, etc. Our eye for detail and experience in the market can help you identify the exterior finishes that will make your home special.
Outdoor Living Spaces
Outdoor living spaces are often as important as the interior. It is where family and friends gather for visits, cookouts and special events. Our team will determine how a deck, screened-in porch or patio may enhance your total home living experience. We design your outdoor living space to be an integrated part of your home and attempt to accommodate all special requests for lighting and/or space design.
Landscaping
Finishing your home with great landscaping is an essential part of the outward appearance of your home. The majority of our plants are locally grown at a healthy and reputable nursery.  Some "special request" plants, however, are sourced from other reputable nursery's near by. Beyond trees and shrubberies, proper drainage and yard smoothing is paramount to achieving a great setting to showcase your new home. Gutter systems are always considered but sometimes are not necessary. We intend for our initial landscaping of your yard to be the basis for you to add your personal touches over the years.
Let's Get To Work
A little landscaping can go a long way in adding curb appeal and value to your home. From the landscaping design to the plants and materials, AW Homes is the single source for all of your exterior home and landscaping needs.
Contact Us