Building a custom new home is a very exciting experience but it can also be overwhelming and stressful if you aren't fully prepared. Just when you think you're done, there always seems to be more to do! At AW Homes we believe every part of the custom home design & construction process should be fun and exciting. That is why we try to prepare our clients for the next phase of construction by simplifying the process and providing our clients with useful tools for selecting home features and finishes. Also, understanding all of the elements of home design and construction can help make things a little smoother. Here is a breakdown of our custom home design & construction process as it pertains to our clients and choosing their finishes:
1: Discovery
Before any custom home project can begin we have to have a general idea of a customer is looking for. This includes size, layout (one-story or two?), and general home features and amenities such as a media room or mud room.
2: Site Visit
The slope and condition of the lot may pre-determine some limits and potentials of the home design and elevation. It can also impact permitting requirements such as septic permits or wells. These elements can have a big impact on the structure of the home as well as the budget.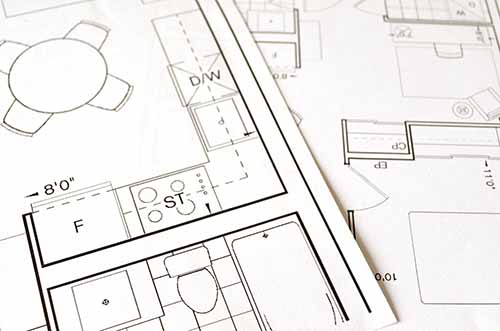 3: Initial Floor Plan
Taking into account the basic home needs identified in the Discovery Phase and any site limitations, we put together a preliminary floor plan and/or look at stock floor plans.
4: Home Specifications
Before pricing can be prepared we need a general idea of what features and finishes a client wants in their home. This includes both interior and exterior elements. For example, will the exterior be brick or vinyl siding? What about stone or brick features, or other exterior accents? Will the kitchen and bathrooms have granite countertops, formica, cultured marble or quartz? Even ceiling height and the amount of trim work can make a big difference in pricing. Colors and styles can be determined later; the important part is knowing what to price and budget for. Working with our clients to visualize their new home is critical for finalizing the floor plan and budget.
Step 5: Finalize Floor Plans, Budget & General Home Specs
With all of the client's needs and wishes detailed out, we can finalize the home specifications, price and budget allowances, floor plans, elevation, and exterior design. Once all is prepared and finalized, we sign a contract with the client.
Congratulations, the initial home design phase is complete and construction can begin! At this point you're probably thinking… "ahh, time to relax!"… but not so fast…. It is time to finalize exterior colors and think about the interior features and finishes like kitchen cabinets, countertops, and fixtures — all the things that make your new home look and feel like "your home". Picking out the interior elements while construction is getting started and underway is important in keeping the project on track. The next steps for a client are as follows: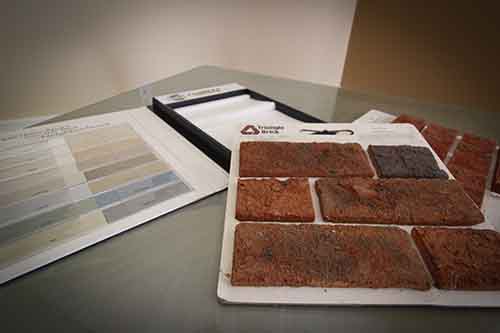 6: Finalize Exterior Color Selections
This includes the color of the brick, vinyl siding, accent shakes and stone features, shutters, roof shingles and the color of any roofing accent elements. At this time exterior doors and garage doors are also chosen so the home can be framed up accordingly.
7: Kitchen & Bathroom Cabinets, Countertops & Hardware
Time to go shopping! Because cabinets and countertops must be ordered and custom designed to fit your new home, it is important to pick them out as soon as the exterior selections have been finalized. This includes the kitchen, bathrooms, laundry room cabinets and any other rooms that require cabinetry. Cabinet hardware is also selected at this time, so be thinking about those knobs and handles you will be using every day!
8: Interior Door Selection & Paint
Believe it or not, there are a lot of interior door designs and styles to choose from. These too must be ordered ahead of time and painted. It is also time to select interior wall colors for every room of the house. For some paint colors are easy, but others find themselves going back and forth between options.
9: Appliances, Light Fixtures, Plumbing Fixtures, Floor Coverings & Hardware
When it comes to picking out these features and finishes there are a lot of options and it can be hard to know where to start or what price range to stay within to keep your new home on budget. That is where our Home Selections Guide comes into play! We provide our clients with a guide reflecting their floor plan that details what needs to be chosen for every room of the house. While some elements may be the same throughout the house, such as the door knob hardware, the Guide helps clients think through and visualize each room.
10: Finalize Landscaping Plans
Landscaping is an important element for every home. Proper landscaping helps hold the dirt and soil in place, protecting your new investment and allowing for proper water drainage. Besides serving such a functional purpose, it also adds curb appeal to your new home.
Now it is time to relax and wait for all of the pieces to come together! Ah!
At first glance it seems like a lot, but with the help of our staff it can be a fun and seamless process. We do this stuff everyday and enjoy helping our clients navigate through the options to select the features and finishes that truly customizes their home to their needs and style. We believe every aspect of the custom home design & construction process should be an enjoyable experience. That is why we work closely with all of our clients to realize their vision, manage expectations and budget, and communicate updates and progress regularly.
Here are a few other blogs you may find helpful:
6 Tips for Making New Home Construction Less Stressful
Placing The Most Important Rooms in Your New Home
Alan White
Operations Manager
AW Homes