Where is the best place for the kitchen? Laundry Room? Garage? These are just a few of the top controversial spaces in your home. Where they fit best is a personal decision for every homeowner to make. But here are a few things to consider when designing the layout of your custom new home:  
The Kitchen: It's always full of traffic and probably one of the most used spaces in your home.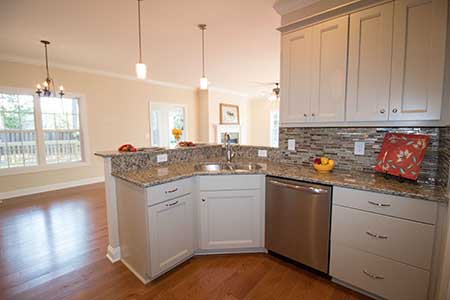 Placement of your kitchen can mean the difference in loving your home or hating it. Consider the placement of the kitchen in relation to the main point of entry. You don't want to carry groceries all the way through the house if you don't have to. If the primary entry is the garage, having the Kitchen nearby may save a lot of time and hassell. If your primary entry is the front door, you'll want to make sure the kitchen is close by.  Also, consider kitchen's proximity to the main living area and dining areas. Since preparing meals, eating and entertaining go hand-in-hand, close proximity of these spaces is key.

The Garage: Is your garage like a busy airport terminal with people constantly coming and going? The placement of your garage can make a big difference in how and where things get piled up. Placing the garage near the mudroom (if you have one) will help contain muddy cleats, gym bags, backpacks and dog leashes (and help keep them out of your foyer!). If you have a job that leaves you covered in dirt and debris, you may want to consider the proximity to the laundry room for containing messy clothes. Placing the garage near the kitchen can also help with unloading groceries if you tend to park in the garage. If it is hot spot for foot traffic like mine you'll want to consider the room(s) it connects to as well so you aren't sending high foot traffic down the hallway past all the bedrooms.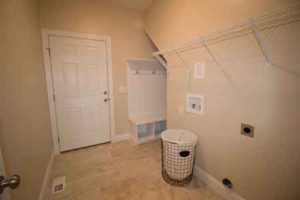 Laundry Room: Upstairs or downstairs? Near the bedrooms? Placement of the laundry room can be very controversial. As previously mentioned, if you need to come home and strip down out of debris covered clothes, make sure your laundry room is near a point of entry (but preferably not the front door). Some find a laundry room near the bedrooms much more convenient for actually washing clothes, sheets and towels, even if it means the washer and dryer will be on the second floor; and others, worry about having a washer upstairs for fear of water leaks and the extent of damage a leak would cause. There are a lot of options for a laundry room, it's placement should function to meet your family's lifestyle and habits.
Bedrooms: There is one thing most people agree on – bedrooms should be far enough away from the main living spaces to prevent noise from keeping anyone awake. Proximity to the garage should be taken into account as well, especially if a family has young children. You don't want people coming and going and the garage doors waking up a youngster who is trying to nap.
These are just a few rooms that we hear differing placement opinions on from our clients. If you're designing and building a new custom home, our teams can work with you on the layout of your rooms and spaces to address your needs, while still ensuring a natural flow. AW Homes has been in the new home construction and home remodeling business for over 30 years and has honed a reputation as one of the best home builders in Moore County, North Carolina. We are proud to serve the towns of Aberdeen, Foxfire, Pinebluff, Pinehurst, Seven Lakes, Southern Pines, Whispering Pines, and Vass.
Kathleen White
Financial Manager & Designer
AW Homes