Building a custom new home puts your decision making skills to the test – What cabinets and countertops? What tile and floor coverings? Paint colors? Knowing what to plan for and planning ahead can help ease the process of new home construction. One thing we often see homeowners overlook is electrical planning. I'm not just talking about which rooms will have fans or not, but rather what types of lighting you want and where, how much, and where you want to control them from.
Once your new home is framed we do an electrical walk through. This is when all of the electrical plans are laid out. During this walk through the electrician marks the placement of all electrical outlets, light fixtures, light switches, specialty outlets, etc. They will also determine where and how electrical wires will be run as well the various circuits for the home.
There are building standards that we are required to meet, such as anytime you enter a room there must be a switch to turn on a light. There are also building standards about how far apart electrical outlets can be.  In addition to these basic standards, we always try to determine the most logical and functional electrical layout for your new custom home. For example, we try to add light switch controls at all room entry/exit points as well as considering where additional or brighter lighting may be beneficial.  (Afterall, we are homeowners too.) But all that said, if you are building your custom new home, you may want to take a few minutes to do a little "electrical planning" on your own before your walk through. It will help you determine what type of lighting, fixtures and electrical functionality you want in your home. Here are some things to consider as you plan your electrical layout.
EXTERIOR LIGHTING
Flood Lights: Usually flood lights are put on the corners of the house. Determine where they will be most beneficial and if you want them motion sensored or not. Also, where inside the home do you want to be able to turn them on and off? There will most likely be several locations you will want to have that ability.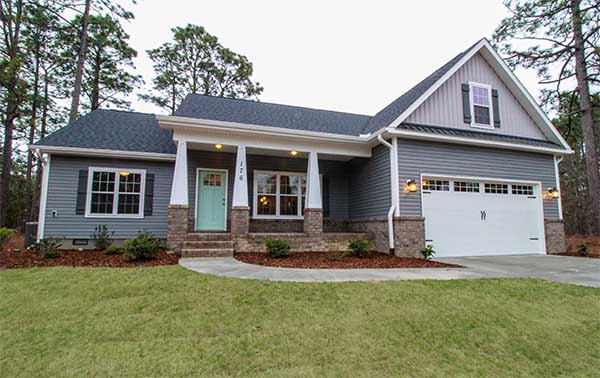 Exterior Entryways: Covered front porches often feature a nice outdoor pendant light, wall lighting or even just a single, overhead light. For uncovered porches, patios and decks wall lights are recommended.
Screened Porches: We usually recommend a ceiling fan with a light, but there are many other options depending on the size of the screened porch. Also think about how you plan to use your screened porch and what kind of ambience you want to create.
Driveway/Sidewalk Posts & Garage Lights: Not all houses have sidewalk posts, but if you do, determine what kind of post lighting you want. Do you have a garage? Think about what kind of lighting you need around or above the garage doors.
INTERIOR LIGHTING
Foyers, Hallways & Closets: Surface mount lights or recessed lighting are usually recommended in foyers, hallways and closets. Some homeowners however, opt for a chandelier or pendant light in the foyer.
Kitchen & Dining Room Lighting: We highly recommend homeowners invest some time thinking about what they want in their kitchen and dining areas. Lighting needs really depend on the layout of these areas. We generally recommend a surface mount or pendant above the kitchen sink, pendants above the island or bar (if you are going to have one), and recessed can lights to make sure you have enough light. Under-cabinet lighting is also something to consider.  Dining rooms and breakfast nooks typically feature a chandelier or pendants, but you will want to consider the placement for the fixture so wires can be run appropriately.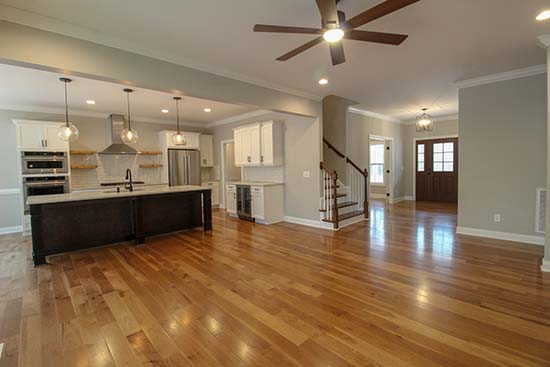 Living Rooms, Playrooms/Bonus Rooms, Media Rooms & Other "Flex Rooms": Take into consideration how your family will use these rooms in your new home as lighting needs can vary greatly. Many open concept living rooms benefit from floor outlets. Planning how you will layout your furniture will help you determine where you want those floor outlets installed so you can plug in lamps. Ceiling fans with a light are nice choices to help circulate air and recessed can lighting (also a popular choice) will ensure you get plenty of good light. For some rooms, like media rooms, you may want a dimmer light switch for greater control of the amount of light. Don't forget about TVs, gaming consoles and other media devices. Planning where you want to set up your media equipment will help ensure you get enough power outlets where you need them. You can even have tubing installed so that TV and other media device cords can be run inside the walls keeping them out of sight. It is just a matter of planning ahead.
Bedrooms: We usually recommend ceiling fans with a light for most bedrooms. Really looking to add some pizazz? Consider a chandelier. Depending on the size of the room you may want or need additional lighting. Also, think about where you will place furniture and any lamps. AW Homes equips all bedrooms with a cable outlet as part of our standards. If you know ahead of time where you plan to place the TV (or mount it) you can ask to have the outlets installed exactly where you want the TV placed.  This will help avoid having to hide any unsightly wires later.
Bathrooms: Vanity lights over the counters and fan-light combos are standard. Think about the style you want and what other lighting you may need in your bathroom as well. A new trend we are seeing is electrical outlets installed inside the bathroom cabinets to charge electric toothbrushes and shavers.
Laundry Rooms & Mudrooms: You always want to be sure you have plenty of light in your laundry room and/or mudrooms. There are a lot of options with these rooms, but we typically see homeowners opting for long fluorescent lighting options.  
Workshops & Garages: If you are planning to have a workshop in your garage think about what kind of work you will be doing and how much light you will need. What kinds of power tools or saws will you be using? Some power tools pull a lot of amps and you may want to ask that those outlets be put on their own circuit. Are you planning to have a second refrigerator or deep freezer in your garage? If so, let your electrician know so they can install outlets where you need them and can plan to have them on their own circuits.
As you can see there are a lot of things to consider when it comes to your home's electrical layout. Take the time to sit down with your spouse and discuss your lighting needs in your new custom home. Also, talk with your general contractor. Besides knowing the electrical standards they can help you decide what you need. A little planning goes a long way. AW Homes has more than 30 years of experience designing and building custom new homes. We take pride in building homes that our clients will love and enjoy for many, many years.
Other recommended articles:
Tips for Designing Your New Custom Kitchen
Breaking Down the Custom Home Design & Construction Process
Placing the Most Important Rooms in Your Home
Alan White
Operations Manager
AW Homes