A sunroom is one of the most versatile living spaces in a home. They can be used as sitting rooms, green rooms, offices, and even exercise rooms. They also have tremendous health benefits and can help increase your home's value. Sunrooms have been around for decades, but with our growing dependence on technology they could be coming back in big style as a new home building trend.
As our immersion in social media and technology intensifies, sunrooms my be getting a new purpose – simply the need to escape and 'disconnect'. Sunrooms provide the perfect means for just that – escaping the high-tech world around us and enjoying more of what nature has to offer. They bring the outdoors inside. Designed with lots of windows and large window panes, sunrooms let homeowners take advantage of natural light all year long. Studies show that sunlight can have a profound impact on mental health, namely enhancing moods and making people feel happier — something that can help counteract the negative impacts associated with social media. Sunlight encourages the production of vitamin D, stimulates the mind, can help lower blood pressure and stress, and provides a general feeling of well-being. And who wouldn't want that?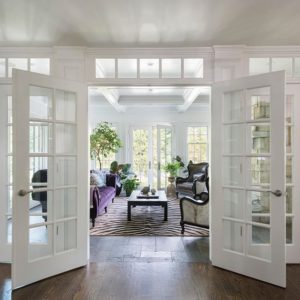 When designing a custom new home with a sunroom, first consider how you want to use the room. Is it for just 'getting away'? Working out? Or perhaps a home office? Then consider placement of the sunroom in relation to other living spaces. At AW Homes we often recommend placing sunrooms so that they are easily accessible to the other common areas, but with the ability to separate from the noise and chaos common with the main living room and kitchen. Elegant french doors featuring glass window panes allow for such separation without making the sunroom feel closed off, even when the doors are closed. However, depending on the intended use, you may want to consider some other alternatives.
The interior design of your new sunroom should also be taken into account. Light paint colors and floor coverings will help give the room a bright and airy feel, and will give way to bold accent pillows and throw blankets. Additionally, using brick or stone accent features will enhance the 'outdoorsy' ambience, really bringing nature inside. We also see many of our homeowners adding live plants and comfortable chairs to create a relaxing atmosphere.
The most essential part of a well designed and constructed sunroom, however, is of course the windows and doors. Large windows and doors that can easily be opened to allow fresh air to circulate are a must for taking advantage of spring and fall weather (and for taking in some good fresh air!) You'll also want to ensure they are energy efficient to help with heating and cooling costs. There are a lot of window and door options to choose from. As season home builders, AW Homes can help you navigate the options based on the size and layout of your sunroom.
So whether you are designing your new custom home or planning a home addition, consider the value and benefits a sunroom can have for your family. With more than 30 years of experience in custom home design and construction we can help you create your perfect sunroom! AW Homes are licensed general contractors, specializing in new home construction, home additions, and home renovations. We look forward to helping you build your dream house!
Kathleen White
Financial Manager & Designer
AW Homes