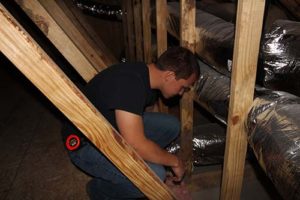 Making a house feel like a home is something all homeowners strive to accomplish. Most homeowners keep up with the obvious tasks such as mowing the lawn, sweeping the floor, and dusting the shelves. They change the air filters, replace the light bulbs, and wash the windows. With all of the routine chores that add aesthetic appeal, it is easy to forget about the unseen to-do's that are equally as important… and if ignored, could end up hurting your wallet! Here are some home care tips that commonly get overlooked or pushed down the home maintenance list:
Watch for areas where moisture can collect as it can contribute to unseen structural damage and mold problems.
Keep those gutters clear!  If you can't do it yourself, it is well worth paying someone to do for you periodically.
Regularly check home heating and air equipment in basements and crawl spaces. Many of the problems we see in wet crawl spaces are from non-functioning condensation pumps and inadequate grading away from house foundations (this tends to change over time and can be addressed).
Repaint from time to time. Repainting rooms in your house and adding a bit of color can bring new life to your home.
When it comes to home care there are maintenance checks that should be performed as the seasons begin to change, especially as we prepare for winter. Being full service home care specialists there are a few things we recommend to be sure you stay warm and your house is ready:
Have a heating professional come out and give your HVAC system a maintenance check.  The last thing you want in the winter is a broken furnace when it begins to get cold.
Seal around windows and doors to prevent heat loss and keep your bills down.
Check the roof and fireplace. Make sure that your shingles do not need replacing and that your fireplace is clean and ready for use.
Be aware of how to turn off water at the source incase you experience an incident of frozen pipes. In older homes, you can winterize your pipes with the use of heat tape or by wrapping with pipe insulation.
Take the time to prepare any outdoor furniture, plants, or walkways before the weather gets the best of them.
Taking pride in your home requires keeping up with the various chores and responsibilities that come with owning a house.  All of the hassle will be worth it when you're sitting inside with your family enjoying each other's company in your beautiful home.
Kathleen White
Business Operations Manager and Designer
AW Homes