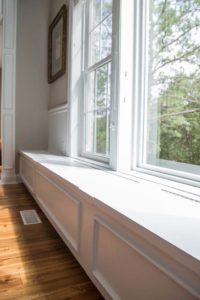 At AW Homes, we are proud of our reputation as one of the premier homebuilders in the region, specializing in custom homes under $500,000. That reputation has been earned with over 25 years of caring about the every detail that goes into a home, from how the initial foundation is poured to every countertop and exterior finish.
While our experience provides our customers confidence in our ability to ensure the structural integrity of an AW Home, the details that often matter most are all of those finishes that make a house a home.  Once the foundation and structure are complete, the final product and move in day can still be months away.  This is when details from crown molding, lighting and appliances to HVAC, fixtures and even landscaping become our focus. Unless you've been through this process, you may not realize just how big of a task it is and all of the options both inside and outside the house. Not to worry as we help you through this process making suggestions and providing guidance and insight so your home is just the way you want it.
A hot topic for homeowners today is "green" and eco-friendly customization.  There are many options for making your home more environmentally friendly ranging from window styles that minimizes heat/air release, to insulation thickness and lighting, to geothermal HVAC systems and other "energy star" appliances, all of which can help you save significantly on your utility bills.   We are Certified Green Builders and also Pre-qualified Progress Energy Contractors, now part of Duke Power.  For us, all the details that include windows, doors, insulation, AC/heating units matter and we are careful to provide our customers the proper guidance as needed.
While picking out the final touches and finishes can be overwhelming, it can also be the most rewarding, especially when you choose to build with AW Homes.  Just because many of these finishing touches may not cause your home to collapse or be of concern to inspectors or building code, we recognize that does not mean that they are trivial.  Leave it to AW Homes to ensure from start to finish, every detail is considered – both interior and exterior.  It is what personalizes your living space and transforms your house into a home. With 25 years of experience we make sure you end up with the home you've always envisioned.
Kathleen White
Business Operations Manager and Designer
AW Homes