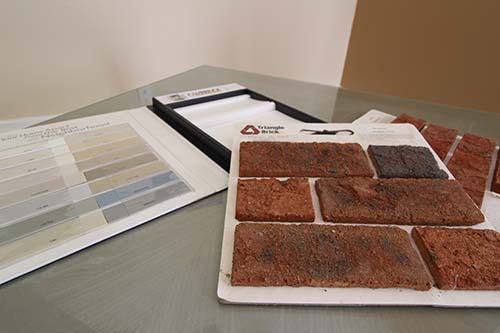 What comes to mind when you think about building a custom home? Do you think "It's too complicated!" or "Oh, simple.  I need a foundation, next put down a floor, then construct the walls, build the roof, and finally finish the interior?"  While those are all pieces of the process, it is much more complicated than those simple, broadly defined steps; but with the right contractor, it's definitely not too complicated or overwhelming a process. It does take a great amount time, energy, and steps to build a house from scratch, but we break it down into manageable steps and processes that are not overwhelming for you and produce just the home you're dreaming of!
The design and budget come first, and they are intertwined.  It takes a little tweaking to get the design (you want all the bells and whistles you can afford!) and the budget (you don't want a payment that keeps you from enjoying a great lifestyle!) in line with each other.  Once that is complete and your financing is in place, we walk you through the rest of the steps required of you, such as choosing paint colors, cabinet finishes, bath fixtures and hardware, floor coverings, etc.  And we have years of experience and expertise in doing just that.  We can even refer experienced bankers with construction/ permanent financing packages.
Everyone would like to build his or her dream home while spending as little money as possible. There are multiple things that can be done when building a home to vary the overall cost. We work with subcontractors and suppliers to get the best price for the best product. We help you determine what you need in a home now, what you really want in the home, and things that need not be included, because you can either add them later when you can afford them or you just don't care for them.  When you decide to build your custom dream home it is important to maintain open channels of communication with your builder, touching base on progress of the building, the next phases of the project, and ensuring that decision are made in a timely manner. It's exciting to watch your dream come to life!
Andy White
President
AW Homes